Bamboo Reducers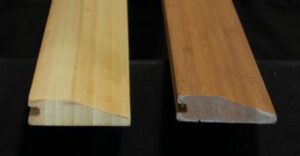 Peerless provides a large range of solid bamboo flooring accessories, designed to enhance the beautiful floor.
Reducers are designed as a transition between the Bamboo Floor and other floor covers.
Now commonly used as a small skirting boards.
Were the grove is its 15mm thick, it reducers down to 5mm thick.
Available in:
Moso Natural & Coffee colour (1850 x 50 x 15/5mm)
Moso Select Tiger (Two Tone) (1850 x 50 x 15/5mm)
Horizontal Natural & Coffee colour (1850 x 55 x 15/5mm)
Vertical Natural & Coffee colour (1850 x 55 x 15/5mm)
| Code | Description | Sizing | RRP INCL GST |
| --- | --- | --- | --- |
| BRH 821 | Reducer Horizontal Natural Matt | 1.85 Lm | $15.40 |
| BRH 823 | Reducer Horizontal Coffee Matt | 1.85 Lm | $15.40 |
| BRV 821 | Reducer Vertical Natural Matt | 1.85 Lm | $15.40 |
| BRV 823 | Reducer Vertical Coffee Matt | 1.85 Lm | $15.40 |
| BRM 821 | Reducer Moso Natural Matt | 1.85 Lm | $17.60 |
| BRM 823 | Reducer Moso Coffee Matt | 1.85 Lm | $17.60 |
| BRMT 823 | Reducer Moso Tigress Matt | 1.85 Lm | $19.25 |